---
Every March I save up to take a tropical fishing adventure to keep the edge off before my favorite Striped Bass arrive back to the North Shore in May.
In 2015 I went down to the Bahamas for a DIY Camping and Fishing adventure with a bunch of great guys.
Last year I went down to Costa Rica with my brother Dan and buddy Brendan Eppley to join guide Tom Enderlin and Release Fly Travel. ( Video -> HERE )
This year I am going with my girlfriend Erin to join TeamWhyKnot Angler Jeff Feczko down in Baja!
---
The Location:
We will be fishing the waters of La Paz, Baja California Sur, and mainly fishing the beaches along the Sea of Cortez.
We will be staying at Gran Sueño which covers about 30 acres, and is located in a relatively remote oasis on the Sea of Cortez also known as the "Bay of Dreams".
---
The Species:
Although it isn't the prime season for some of the larger fish, we are hoping to still targeting a variety of species on fly/spin including R00sterfish, Dorado, Snapper, Sierra Mackerel, Pargo, Yellowtail, and more.
Jeff w/ a nice Pargo on the fly!
Jack on fly
---
The Tactics:
Jeff has been fly fishing these water for a few years, so we will be leaning heavily on his experience and expertise in this area.
Our plan is to fish a variety of remote beach's and rocky shorelines in the area with ATV's. We also plan to rent a Panga (small type of boat) for a day or two to have a change of scenery and fish new waters.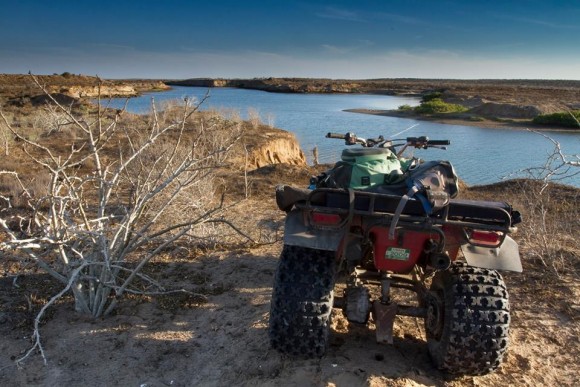 Photos: tothegills.net 
---
The Gear: 
For this trip I will personally be trying to live by the "Fly or Die" mantra, but also bringing some spin fishing gear as well in hopes to tease some fish in that are out of range.
Here is some of the fly fishing and spin fishing gear we are bringing along with a couple other necessities to have on the water.
FLY FISHING
My two main fly fishing set-ups are rigged up and ready to go from Orvis, Cheeky Fishing and Cortland Line.
Rod: 9wt – Orvis Helios 2     Reel: CheekyLimitless 425   Line: Cortland 350g Compact Sink
Rod: 10wt – Orvis Clearwater   Reel: Cheeky Thrash 475     Line: Cortland's Tropic Plus Ghost Tip 15
We will be using a variety of flies including some from our friends at East Coast Flies, and Jeff has a ton that he has spun up himself specifically for the location and species we will be targeting.
 Top – Clean Mullet           Middle – Dirty Mullet            Bottom – Sardine
SPIN FISHING:
My spin fishing boxes are packed with the best of the best for lures specifically targeted at the inshore fishing we will be doing.
I will be bringing:
247Lures – Mully, Fish Stick, and Sea Special
Fatty Lures – Gliders
Al Gags – Whip-It Fish in 1-oz, 1.5-oz, and 2-oz in a variety of colors.
Tactical Anglers – Poppers
I will also have some jumping minnows and other custom plugs from friends.
SUN GEAR:
The weather will be in the mid 80's. Staying protected from the sun will be a priority on and off the water!
We will have with us our favorite Costa Sunglasses, a full line of products from Buff USA and Waxhead Sun Defense.
OTHER IMPORTANT GEAR:
I am also going to pack my XTRATUF boat shoes, and ankle boots to have while fishing off the sharp rocks.
And, last, but not least, my YETI Flip 12 will be perfect for keeping our fish and Pacifico's extra frosty!
---
This will be a little bit different than my last two fishing adventures, but I am looking forward to the adventure with Erin, and know Jeff will put us in the best position to catch fish and have a great time!
And at worst case it's a vacation in the sun, and when I get back the New England season won't be too far behind.
See you when I'm back!
— Matt
---
Big Thanks to Our Supporting Companies
for Always Getting Us the Best Gear and Supporting Our Adventures Like This One!